iPhone backups hold all your essential data.
In case you lose your phone, you know the data is always safe and can be recovered in no time through the backup! However, the question arises: how do you view your iPhone backup files in iCloud or Computer?
iPhone files are usually backed up into compressed, encrypted file formats. One solution to view them is by extracting them through iTunes. However, the concern is that before gaining access to viewing the files, all the files are restored through iTunes first.
Table of Contents
Can I View My iPhone Backup Files In iCloud Or Computer?
Fortunately, with the introduction of other helpful apps like iMazing, one can easily view their iPhone backup files without even the need for scanning. It makes the process two times faster, at no cost, as iMazing is entirely free! Only one dedicated software can help you view and browse the iPhone backup files.
With iMazing, you can gain access to multiple files of multiple devices at the same time. iTunes doesn't offer this kind of facility and facilitates only one backup per device. Therefore, iMazing can be the best tool to view your iPhone backup files on your computer.
What Content Can I View In My iPhone Backup On Computer?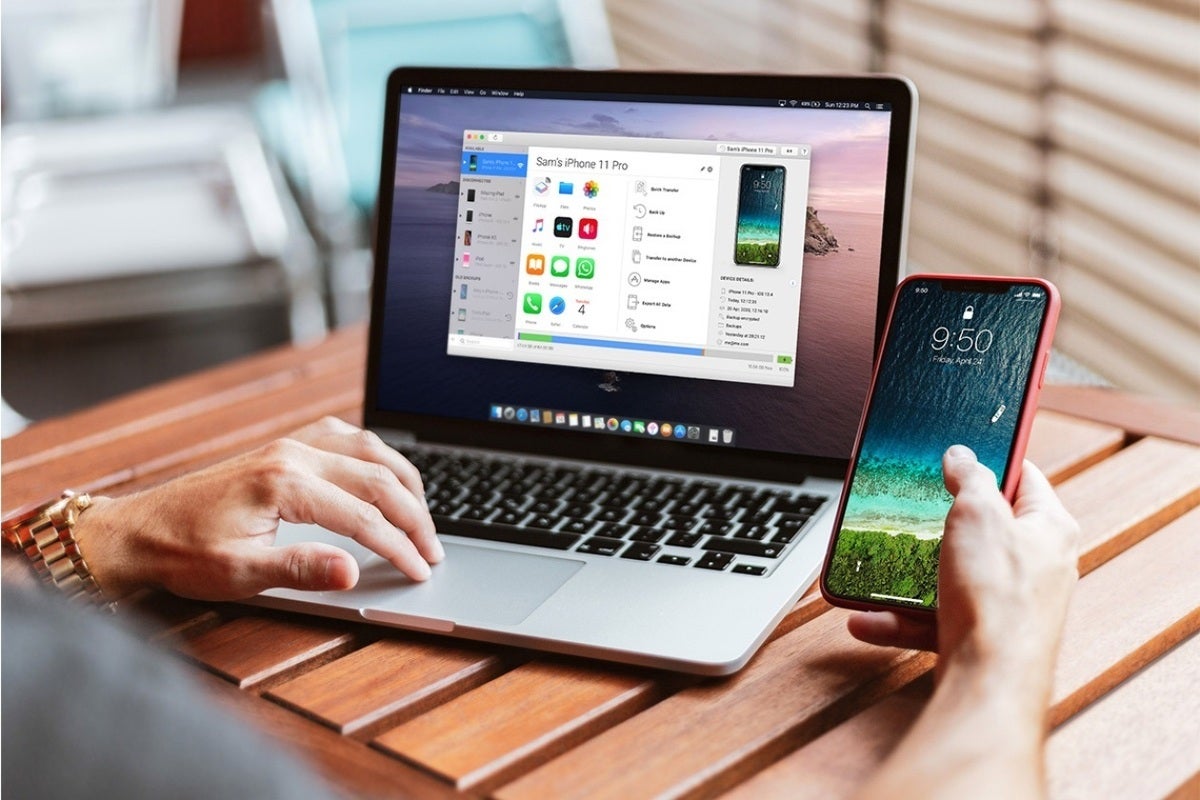 Regardless of your device is connected to your computer through USB or Wi-Fi, the user can gain access to view several datasets of iPhone backup files on iMazing such as:
Messages

Calendars

Photos

Notes

Apps and App Files

Contacts

File System

Safari History and Bookmarks

Ringtones

Voicemail and Call History
Key To View iPhone Backup Files In iCloud Or Computer
1️⃣ Browse Device Backup
Select the device from your sidebar. Click the backup option in the upper toolbar to open the backups window. Then, select the iPhone files you have to view, press the view button. This opens a backup browsing view of your device that enables viewing the backup content.
2️⃣ View The iPhone Backups In Current State
Step1: Click backups in the upper toolbar to open the backup window.

Step2: Select the current state option in the backup window and click the view button.

Step3: This opens the device view of iPhone files.
Tip: With a simple right-click on the device, you can open the sidebar and select switch to the connected device to revert to the current state.
3️⃣ Viewing iTunes Backups On MacOS
While viewing your data on the macOS, it is essential to ensure that your data remains secure – malware and spyware guard your private information. iMazing lets you explicitly permit apps to view specific data, including iTunes backup files.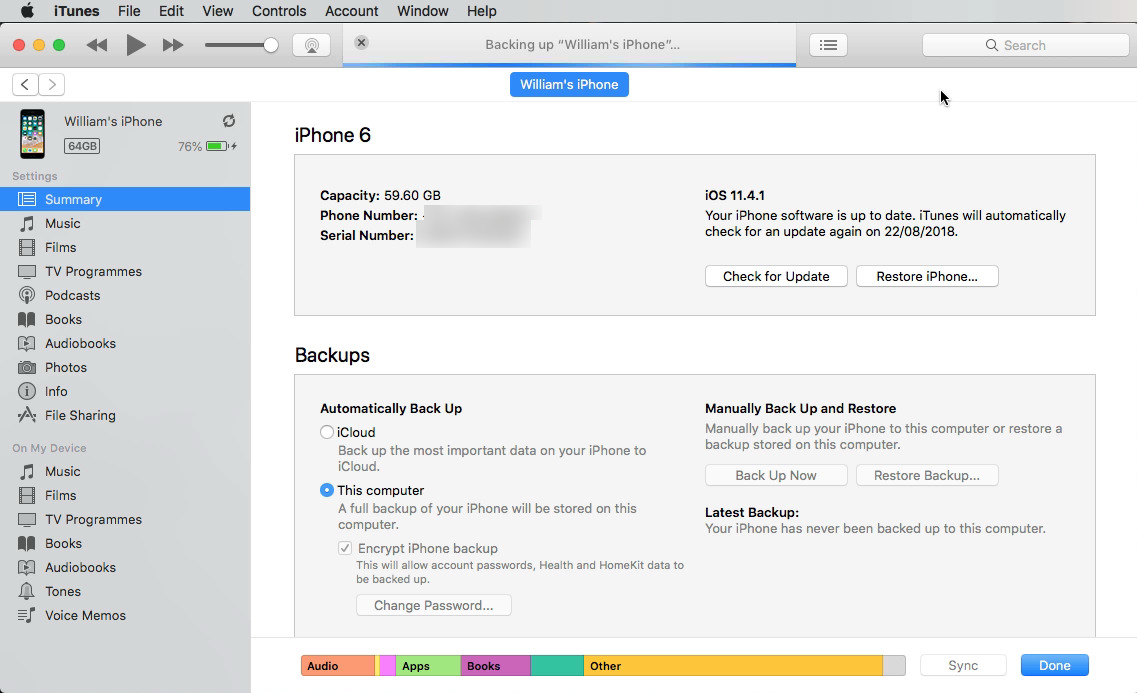 Step 1: Authorize iMazing to gain access to your iTunes backups through the iMazing's sidebar.
Step 2: On a single click, the button, an instruction set would be displayed to add apps to your list.
Step 3: Open System Preferences option on iMazing will give access to macOS preferences: Full Disk Access whitelist, Privacy tab, Security & Privacy.
Step 4: On the bottom left, press the lock and allow changes by inputting your macOS user account password.
Step 5: Drag down and drop the iMazing icon to the Preferences window.
Step 6: iMazing must restart to save the changes, so you may need to quit the app. It's best not to have any operations running, so you can quit or click later and quit and restart iMazing as you find convenient.
When iMazing is granted the authorization to access the iTunes backup, the left sidebar appears with all the old backups along with the devices. To view all the iTunes backup, you need to grant full disk access or whitelist iMazing, the ideal setting.
Even with this privilege, iMazing provides you the surety of not using any of your secure data and can work effortlessly well even if you don't grant access.
Tip: It's your call to revoke permissions at any time. Do it like this:
Open System Preferences on macOS

Click on Security & Privacy tab, then the Privacy tab, and finally click Full Disk Access.

Eliminate iMazing from the menu
Interface Required To View iPhone Backup Files In iCloud or Computer
Before you browse your iPhone backup files, you will go through some modifications in iMazing's interface:
Sidebar – a backup connection greys out the device

Backup lists – the key that specifies the date and time of backup

Backup schedules are offered

Backups specifications – a black and white device thumbnail

Disk usage – Bar length indicates the space used up by backup files
Is It Better To View Backup iPhone Files On iCloud Or Computer?
If you can't seem to find and view the local iPhone backups on your computer, there's nothing to worry about. There is a possibility of having the backup on your iCloud. Sometimes the automatic backup feature can be a great blessing.
Searching for iCloud backups is made easy with the iMazing app. All you need to do is follow these steps:
Step 1: Install & launch iMazing
You can download the app for free directly from the developers' official website.
Step 2: Connect your iPhone
The first time you use the app, you'll have to pair your iPhone and a Mac/PC via USB. Tap "Trust this computer" on your phone. Your computer and iMazing will memorize your iPhone, and then, when you use iMazing the second time (and basically every time afterward), it will automatically connect your iPhone via Wi-Fi.
Step 3: Click "Login to iCloud for more backups"
Enter your valid iCloud authorizations by putting in your Apple ID and password. In the case of 2-factor authentications, you will have to enter a verification code sent to you. iMazing starts its search for your iCloud backups.
Step 4: View backups on your computer
You can now extract them from your computer and do whatever you want: restore, delete, or create a new backup. All in one!👍🏼
How Can I View iPhone Backup Files In iCloud Or Computer?
Method 1: How to View iCloud Backup File on Computer via iCloud Website
By visiting icloud.com, you can access the iCloud backup file. You can sync Numbers, Contacts, Reminders, Pages, Keynote, Mail, Calendar, Photos, Notes on your iCloud storage from your iPhone. This can be done by enabling the sync option on your iOS device linked with your iCloud account. Follow these steps to allow easy access:
Step 1. Settings Menu > Tap on [your name] > Select "iCloud" and permit the iCloud storage sync of iPhone files.
Step 2. Type icloud.com on the browser of your Type icloud.com > Sign in with your iCloud ID and password.
Step 3. You will gain access to view all types of backup files to click on your Computer.
Note: However, this method only caters to a few iOS files. For a much better insight to back up on your iPhone files, you can try method 2.
Method 2: How To View iCloud Backup Files By Restoring Backup To An iOS Device
An alternative approach to view iCloud backup files is through restoring the iCloud backup file to iPhone. To accomplish this, you are required to wipe out your device first. Only then you can restore your device from an iCloud backup.
Step 1. Delete all content by clicking settings on your iPhone > Click on General tab > Select Reset > Erase Entire Content and Settings.
Step 2. To restore your iPhone from iCloud backup, Set up your device > Choose the option "Restore from iCloud Backup"> Sign in with your iCloud email and password > Select a backup file to restore.
TIP: Before you proceed, make sure to have a copy of your iPhone files at hand, so you don't lose anything important during the process.
Method 3: View Backup Files via iCloud Alternative Tools
While both the methods mentioned above have their limitations, iMazing proved to be a catch-all app, which can help you do many things that iCloud can't. Starting with the iCloud storage, the backup space is only 5GB free. Whereas, with iMazing, you get unlimited storage for your iPhone files backup. So, it depends on your Computer's storage.
iMazing allows you to backup all sorts of files. Along with that, there are many other advantages that iMazing brings to the table. Including:
Data Transfer – Move the data from iOS devices to computer or vice versa.

Video Downloader – Install videos from above 1000 video-sharing sites.

iOS Unlocker – Erase the content of an iPad or iPhone without a passcode.
Bottom Line
Here you go, that is how you can easily view your iPhone backups files on iCloud or Computer! From important contacts, memorable messages, photos of your favorite dog, or any memories you want to keep saved can be backed up and viewed quickly.
To have a hassle-free experience, your files from the backup can be transferred and viewed on your PC by using iMazing. It is fair to rely on these programs when you get precisely what you require; to view your important data from your backup. Hence, if you search for an upfront yet operative solution, iMazing is a great choice to go for.
That is all about our systematic guide on viewing your iPhone backup files on your computer or iCloud. After going through this guide, you can have access to your iCloud backup virtually and in no time. If you think this guide is useful to you or can support any of your friends who happen to run into the same difficulties, share it with them and get excited for more!🔥