To manage your iPhone apps on the computer, just the way you want is like a dream come true.
All you require is a trusted software to transfer and save your messages, music, files, and data. Safely keeping all the backups on your iPhone, iPod touch, or iPad can get hectic unless you use a powerful and user-friendly iOS device manager like iMazing.
It would downright be the best choice for your Mac and PC. With a full grip on your iOS device, iMazing is outstanding!
Table of Contents
Can You Organize iPhone Apps On Computer
Making folders and apps on the iPhone is excellent but arranging iPhone apps on the computer through iTunes is fascinating. It lets you rearrange the order of the apps visible on your home screen, just by clicking-and-dragging.
If you require a lot of rearranging your iPhone apps, you can connect your iPhone with your computer open it through the iTunes source list. By clicking on the Apps tab, you can select which iPhone apps you want to sync on your computer.
New app folders can also be created by hovering the cursor over the app you want. In contrast, the X button would help you delete that particular iPhone app.
How Do I See My iPhone Apps On My Computer
iMazing displays iPhone apps on your iPhone, iPad, or computer in the "app library." Thorough scanning of your iOS device by iMazing generates a list of the apps that your iPhone contains. Even the previously installed devices are visible through iMazing.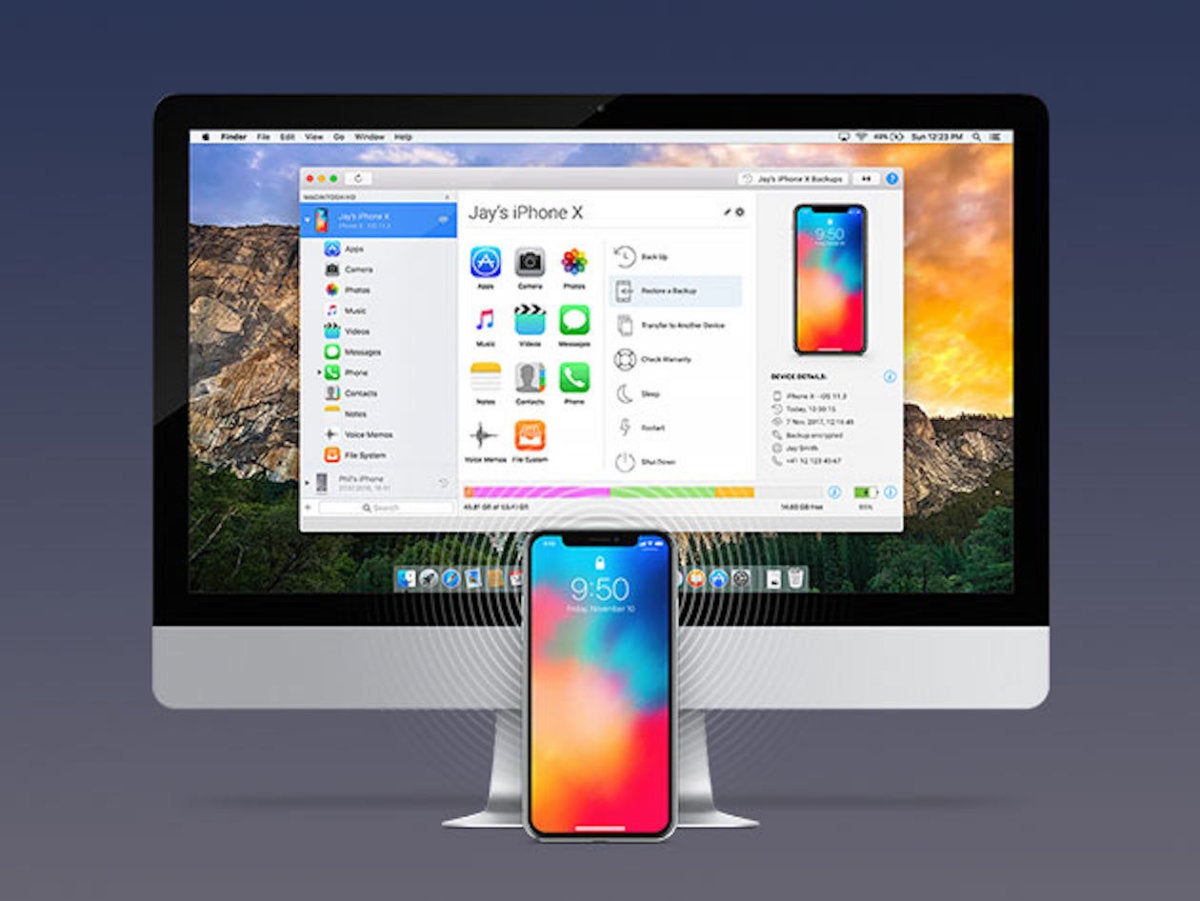 iMazing's app library consists of the following:
Current apps on your device. A checkmark in the installed column represents installed apps.

Previously installed apps. The Cloud icon represents these apps in the download column, through which you can reinstall the app again.

Apps downloaded by iMazing. Any app downloaded with iMazing is saved on your computer so you can download them again.
How to Manage iPhone Apps: A Step-By-Step Guide
How does iMazing work? Let's go through a quick instruction below!
Step 1: Download & install iMazing
You can download the free trial for iMazing directly from the developers' official website.
Step 2: Connect your device
The first time you use iMazing, you'll need to connect your iPhone via USB. Tap "Trust this computer" on your device. This way your computer and iMazing memorize the iPhone, and the next time you use iMazing, it will automatically connect your phone via Wi-Fi.
Step 3: Click on Manage Apps
iMazing will display all the apps on your iPhone. Purchased apps can be installed through iTunes Store. Already installed apps can be directly added to the iMazing app library.
Step 4: Delete the apps that you want
Computer apps can also be deleted.
Sorted!✅
With iMazing, you not only delete apps. Any updates can be downloaded instantly as well. Plus, you can restore backups on your iDevices once connected via USB or Wi-Fi.
How Do I Manage My Apps In iTunes
To download any app from the iTunes Store, click Add from App Store. This is open a sheet that will ask you to type in the app name you want to download. Only already purchased or free apps on your Apple ID connected to your device can be downloaded from iMazing.
However, if you wish to have any other new app installed on your computer with iMazing, install the app on your iPhone first. You are then proceeding to install and save the app on the computer through iMazing.
Pro tip: If you frequently install apps, you can check on the Remember Password option to save the time of entering the password of your Apple ID repeatedly.
Why App Management Is Important
App management saves you a lot of time and helps align all your apps how so ever you want to increase access. People prefer to manage apps on the computer for various reasons.
Some of the features offered By iMazing:
Keep important messages – save and export your iPhone messages securely

Easier music transfers – Move music files from iPhone to the computer without iTunes

Easy access to your photos – Export all your media to your computer without iCloud or iTunes. All the favorite moments will be saved on your computer

Free smart backups – safe backup of data from iPhone to your computer, wirelessly

Manage your contacts – Move all your contacts from iPhone to your computer

Limited app management solution – From downloading apps (.ipa) till backup and transfers, all your data is transferrable easily

Move notes and voice memos – Open and transfer your iPhone notes and voice memos

Advanced iOS Management –Inclusive of USB or Wi-Fi connectivity, handy pairing, removal of devices, reinstalling iOS and diagnostics
Different Ways Of iPhone App Management
Restoring and deleting the iPhone apps on the computer has now become more manageable. With iMazing, you can right-click on the app that you want to delete and choose "delete from the library."
What is impressive is that it asks you to reconsider your deletion. Therefore, even if you accidentally pressed it, you can change that. The apps can also be re-download later if you wish.
While restoring your backup files through iMazing or transfers from iPhone to the computer, you will have a choice to download the apps from the local library. Enabling this option will automatically install the apps on the target device. There is no need to reinstall using iOS.
To make this backup process relatively easier, make sure these things are done:
The downloaded app and the backup up app should have the same versions

The downloaded app and the backup app should have the same Apple ID
Note: iMazing app library provides you the ease of downloading your favorite apps directly on your computer than iOS. One thing to be sure of is that you download the apps right before or after the backup occurs during the transfer process.
The Easiest Way to Organize iPhone Apps
To organize your iPhone apps well and quick, you can follow these steps:
Launch iMazing

Click the button in the iMazing toolbar

Select import .ipa to library

Find the app you want to add
The app file you want to find consists of the app name and the .ipa extension. Click Choose.
This quick way will immediately move your app to the iMazing library. Another quick way includes simply dragging the .ipa files to the iMazing app library from the window. It enables the user to add any existing iPhone app from the mobile applications folder. The apps can be dragged one by one, or even many apps can be transferred at one time.
Why is IPA Management From Computer More Comfortable or Effective
IPA Management, like iMazing, offers a better chance at the proper management of app updates. With a devoted update window in both the library and device tabs, one can check all the updates through the library tab.
iMazing finds all the updates and presents them in the updates section of the apps downloaded library. It enables the user to download and decide whether to keep a previous version or go with a new update! The same process goes for the device tab.
Note!
By default, iMazing updates the apps without keeping a copy of the library's previous version. Therefore, it is your call if you want to check the checkbox named "keep downloaded updates."
Bottom line
No matter how conveying it may seem to use the iPhone, it is always relaxing and easier to manage all your iPhone or iPad apps on the computer. Using these simple steps and guidelines, you will soon have a peaceful and quick organized app library through iMazing!