Your iPhone's contacts are automatically synced to iCloud if you have allowed so. But if you have opted out of Apple iCloud services or your iCloud storage is full, you should definitely save your contacts to another cloud service such as Google Drive.
Table of Contents
Apple iCloud only allows 5GB of free storage for its users, which, let's be honest, is NOT ENOUGH, especially when you have thousands of media files and data on your iPhone. So if your iCloud storage is full and you save new contacts on your iPhone, they won't be synced to iCloud, meaning that you will lose them forever if you misplace your iPhone.
So if you are not using Apple iCloud services or you run out of your iCloud storage, you can always sync your iPhone contacts with Google Drive. Google Contacts do not just include a phone number and a contact name, but they also sync the email addresses and physical addresses associated with the contacts in your iPhone. Your Google Contacts do not just store your contact info, it also manages them.
Here's what else you can do with Google Contacts:
Create group contacts and send group emails.

Add, edit, or delete contacts.

Search for contacts.

Merge all the duplicate contacts.
You can easily access your Gmail contacts through your Gmail account on your Mac, iPad, or iPhone. If you have a Google account, open your Gmail account on the browser. On the top right, you can your Gmail account icon. Next to that, you will see the Google Apps icon (the grid of 9 dots also knowns the Waffle). Click on the Waffle and open Google Contacts. Manage or import Google Contacts easily from your Mac, iPad, or iPhone.
How to Save iPhone Contacts to Google Account
If you think connecting your Google account to your iPhone will export all of your iPhone contacts to the Google Account, you are wrong. Doing so will only import contacts from your Google account to your iPhone. It won't actually sync or export your iPhone contacts to your Google account.
To sync contacts on your iPhone to your Google accounts, you will need to download Google Drive on your iPhone and sign in using your Gmail account.
Next, launch Google Drive on your iPhone and go to menu>settings>backup. Select "contacts" to backup your iPhone contacts and tap on "start".
Next, open Settings on your iPhone and make sure you are signed in to your Gmail Account in the "Accounts" section.
Finally, in your Settings, go to "Contacts", tap on "Default Account" and set it to "Gmail". Now your iPhone will transfer contacts to your Google account.
How to Import Contacts from Google to iPhone in a Few Minutes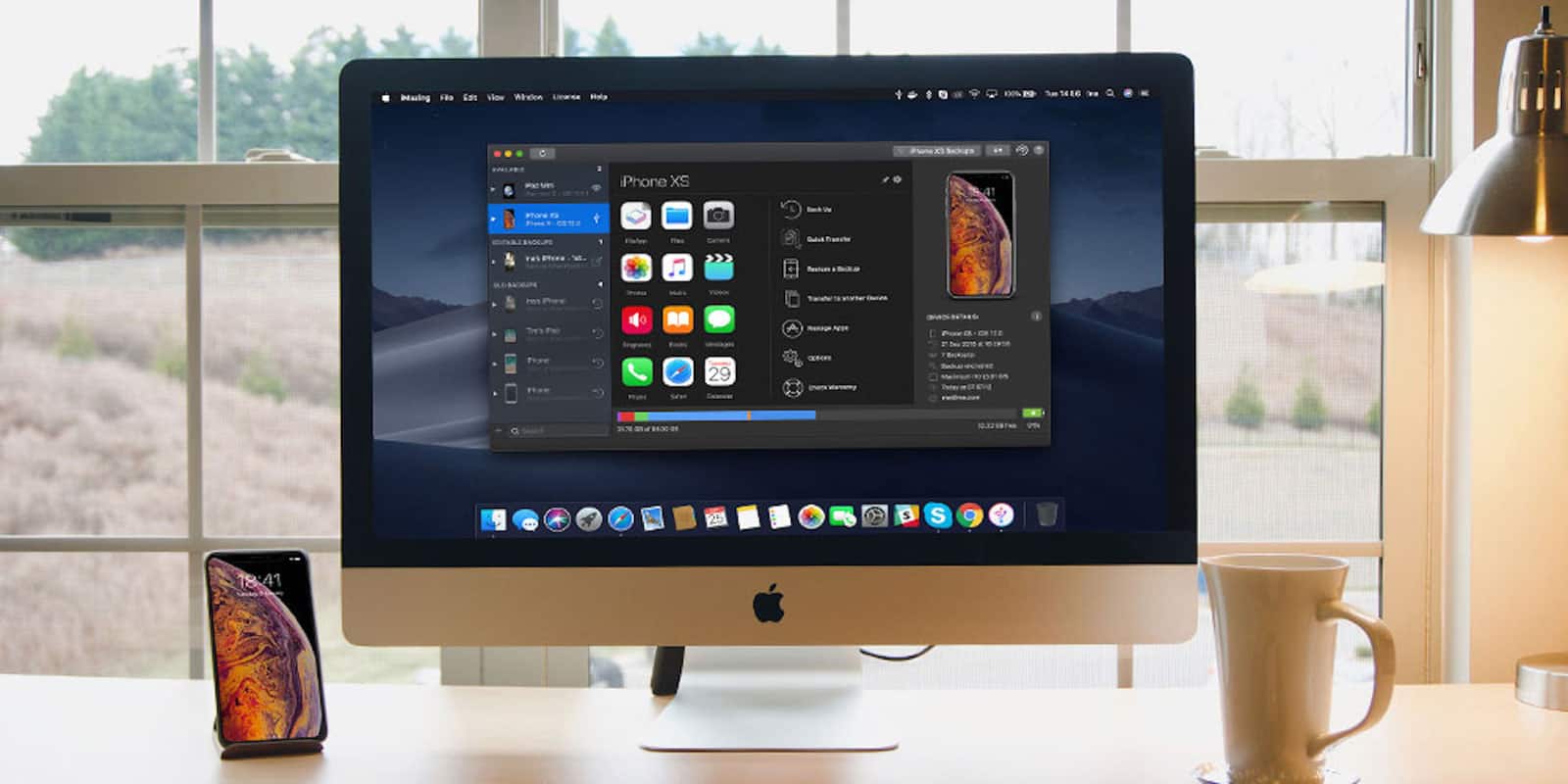 If you have recently bought a new iPhone or you somehow missed all the contact data on your iPhone, you can easily get it back in a few minutes from your Google Drive using an app called iMazing. iMazing is your very own Apple device manager and a transfer tool for iPhone, iPad, Mac, and iPod that takes care of all your transfers, iOS updates, backups and much more in 1 go!
So download iMazing for free and follow the steps below to sync your Google contacts to your iPhone:
Step 1: Download & Install iMazing
Get the app on your Mac/Windows for free by clicking on the download button below.
The app is free to download with limited transfer, configurations, exports, unlimited backups, and more on your free trial that lasts a lifetime. However, some features require you to purchase the license. Install and launch the app.
Step 2: Connect your iPhone
Do it with a USB cord. Next time, you'll only need a Wi-Fi connection to pair your devices. iMazing can do some magical things! ;)
Step 3: Go to Google Contacts on your Mac/Windows
There you can choose to export them as a vCard (for iOS contacts). Your contacts from Google will be downloaded to your computer.
Step 4: Click on "Contacts"
Click on the button to export or import contacts to iPhone from your Computer. Then, click on "Import from vCard". This will help you sync Google contacts from your computer to iPhone.
The import wizard will pop up. In the new popped-up window, click on choose and select vCard file from the download folder on your computer. Your contacts transfer from Google Drive to your iPhone will begin.
You can export and import your entire contact list to your iPhone in 1 go, without having to transfer contacts one by one! So no matter how long your contacts list is, you can sync contacts from Google Drive to your iPhone as one file in the form of a vCard.
Why Use iMazing?
Well as the name suggests, iMazing is an AMAZING app for all Apple users and a better alternative to iTunes. It is hands down one of the best Apple device manager and transfer apps you will find online.
And here's why:
1️⃣ An All-in-One Export and Import Tool
iMazing is not just a contacts transfer app for Apple devices. It is your dedicated tool for transferring ALL files to and from your iPhone, iPad, iPod, or Mac. Whether it is photos, music, apps, files, chats, call history, or whatnot, just connect your iPhone to the app, and start files transfer in just a few clicks, without having to use Apple iTunes.
2️⃣ Your Dedicated Contact Manager
Not all of the contacts in your directory are useful. There's a high chance that half of the contacts you have are of people you NEVER call. So if you want to want to get rid of a few contacts in your iPhone before transferring them to your iPad or Mac, you can do so by using iMazing. Just open the app and go to the "Contacts" section in the app. Select a contact and click on the "Delete" button in the bottom toolbar.
3️⃣ Drag and Drop
If you want to transfer just a few contacts from the phone to Mac or from your Gmail to your phone, you can simply drag and drop each contact instead of following all the transfer steps. Just open the location of your contacts in your phone or computer, drag them and drop them into the iMazing wizard or your dedicated folder in your Mac. Ditch the old copy-paste method and get used to the new and easier drag and drop option! 👆🏻
4️⃣ Wireless and Automatic Transfer
Did you know that once you have connected your iPhone, iPad, or iPod to iMazing, you do not need to connect it via a cord next time? You can simply use the App via Wi-Fi. Just open the iMazing app, choose your phone from the left sidebar and start managing it! A hassle-free way to manage your Apple devices from a distance.
Do I Need to Purchase a License to Transfer Contacts from Google to iPhone?
iMazing has a free trial version for an unlimited time that allows the use of free features any time you want. However, there is a limit on the number of times you can use those features.
To move contacts from Google to iPhone, iMazing allows you to transfer 10 contacts on its free trial. So transfer your first 10 contacts from Google to iPhone for free by downloading the free app from below!
How to Transfer Unlimited Contacts from Google to iPhone?
If you want to transfer more than 10 contacts from Google to iPhone, you will have to get an activation code from iMazing. The code can be obtained by purchasing the iMazing license from here.
If you are using the same license type, you can use the same activation code to use iMazing on multiple PCs.
iMazing offers the following license types for users to choose from:
$44.99 for Single License - to activate one

$49.99 for Universal License - to activate up to two

$69.99 Family License - to activate up to five
However, the number of Apple devices that you can manage using iMazing is unlimited!
Wrapping Up
So now that you know everything about iMazing, try it for yourself for free and see why it is literally the best Apple device manager you will find online. Try all features in the free trial and once you are satisfied with the app, buy the full version to get most of its amazing features!