In this post, we put together essential tips to secure your iPhone from data theft! 🔒Read on!
A new video of Kanye West's meeting with Donald Trump shows Kanye hammering away at the 0's on his iPhone passcode screen to unlock it.
If this isn't a quick reminder to take another look at your iPhone security settings, then IDK what is.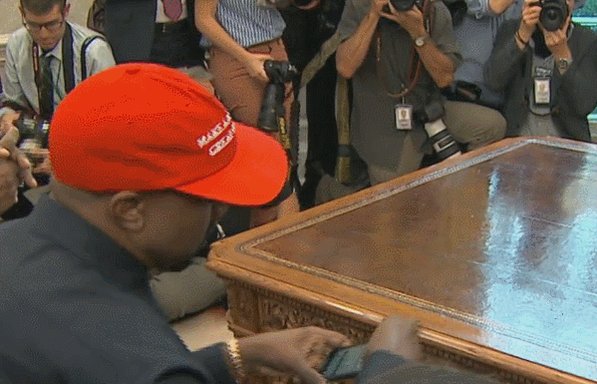 @SteveKopack

Kanye just unlocked his iPhone before the TV cameras in the Oval Office. And his password is just 0 repeatedly
Now most of us are smart enough to mix up our iPhone passcodes a bit and trying not to use our birth years, home addresses, etc. but what else can be done to not be like Kanye and give hackers easy access to your precious iPhone data?
Tip #1 – Use Face ID to keep your iPhone safe from hackers
Considering you have an iPhone X as Kanye does, then you should be familiar with Apple's biometric security feature Face ID.
How do I set up Face ID? 🤔
Launch Settings from your Home screen.

Tap Face ID & Passcode.

Enter your Passcode.

Tap Set Up Face ID.

Tap Get Started.

Follow on-screen instructions to map your face.
Face ID has proven its effectiveness for keeping the would-be hackers at bay since iPhone X's launch back in November of last year.
Face ID is one of the most secure and up-to-date ways to protect your iPhone
Although not as fast as Apple's older security feature Touch ID, it is definitely more reliable. No more worries about dirty or wet hands keeping you from unlocking your phone (and no more risk of hackers stealing your fingerprints Mission Impossible style!).
Your face might not be as unique as Kanye West's, but Apple's Face ID still remains one of the best ways to secure your iPhone from hackers in 2018.
Tip #2 – Keep your iOS up-to-date dummy!
Our second tip is honestly a no-brainer and one of Apple's first recommendations on how to keep your iPhone's security features up-to-date.
Hackers are quick to expose flaws in Apple's iOS (however rare they might be). By consistently updating your device's iOS you are staying one step ahead of the game!
To update your iOS software and make sure your personal data is protected, simply open your Settings app, tap General, then Software Update.
Always keep your iPhone software updated
Your iPhone will either inform you that you are slacking on updating your iPhone and prompt you to download the latest update OR will gladly inform you that your iPhone is already updated with the latest iOS software.
Tip #3 – Activate Find My iPhone in case your iPhone is stolen
You can't help it if your new iPhone X is stolen at a party, in an Uber (or in my case falls out of my pocket at a show), BUT with Find My iPhone, you can help if your thief gets access to all of your contacts, photos, and other personal data.
If your iPhone is lost or stolen, activate Find My iPhone
In addition to providing you the precise location where your iPhone is (if it's turned on), Find My iPhone also lets you completely erase all iPhone data if your hacker does end up getting past your passcode or Face ID.
Losing your iPhone is a worst-case scenario, but luckily Apple has made it simple to protect your iPhone from thieves.
Tip #4 – Have common sense on the internet – don't open suspicious links
Although Apple's iOS software is generally known as the most secure in our modern smartphone era, this doesn't stop hackers from getting access to your iPhone through pop-ups, phishing emails, and unknown calls or messages.
Some quick rules of thumb to protect yourself from scammers include:
Don't open up pop-ups from untrusted sites in your Safari or Chrome browser

Check all company email addresses to see if they are legit (many hackers pose as Paypal or Apple to get access to your financial data)

Only open texts, emails, links from sources that you know and trust
Stop iPhone data theft with these 3 bonus tips
Bonus Tip #1 – Avoid connecting to public WI-FI and use secure connections instead
Using the free, public WiFi connection at McDonald's, your favorite coffee shop, or shopping mall is one of the easiest ways for hackers to gain access to your data.
It's also a bad habit of mine to check out social media and shop on Amazon while hanging out at Starbucks, but if your value your iPhone security like I do, use your 4g instead.
Bonus Tip #2 – Switch to a six-digit passcode (please not 000000 😅)
Adding two extra digits to your iPhone's numeric passcode increases the number of combinations from 10,000 to 1 million.
To do this simply go to Settings, tap Touch ID & Passcode, touch Change Passcode, choose either a new numeric or alphanumeric code.
Bonus Tip #3 – Set up your iPhone erase all data after 10 consecutive failed passcode attempts
Be careful with this one, you're only one wild night out (or rambunctious toddler) away from entering the wrong passcode 10 times in a row and erasing all of your precious data.
If you do choose to use this valuable iPhone security feature, please make sure all your data is backed up on the iCloud 😉