iPhone Xs is finally here! Among many great advancements in iPhone X, Xs and Xr, they all have a brand new default ringtone. Here's how to download the iPhone Xs exclusive ringtone to your device without iTunes.
The latest iPhones X, Xr and Xs come with a new cool default ringtone. As reported by the Brazilian developer Guilherme Rambo (see the tweet below), this tune is exclusive to the latest models only. It's called Reflection and it sounds great!
Good News – no matter what device you have, you can still download iPhone X default ringtone to iPhone without iTunes! You can easily put it on your phone and even prank your friends saying you got the new iPhone X (even if just for a second).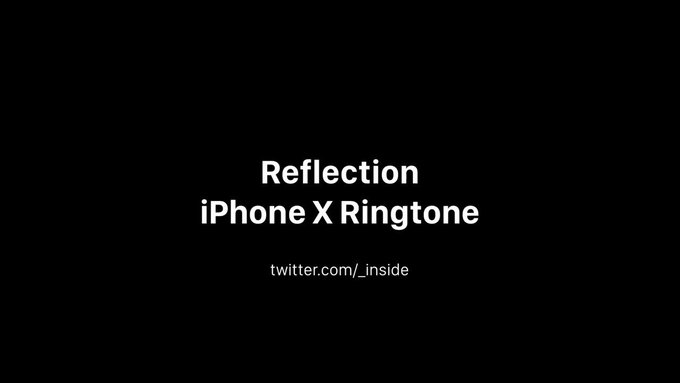 This is the new "Reflection" ringtone, only available on iPhone X pic.twitter.com/La0wTzB4wd

— Guilherme Rambo (@_inside) 1 ноября 2017 г.
Here's how to download iPhone X Ringtone to iPhone without iTunes
Before you begin, you will need to download Softorino YouTube Converter 2 (aka SYC 2). The app seamlessly downloads any ringtones, music or videos from YouTube to your computer or Apple device.
Best of all – you won't even need to use iTunes! Softorino YouTube Converter 2 will send it straight to your iPhone. Boom!
Softorino YouTube Converter 2
Requirements: macOS 10.10 and higher
Latest Version: 2.1.14, 24 January 2020
Requirements: Windows 8 and higher
Latest Version: 2.2.37, 26 February 2020
Free Download
Download the app by clicking on the green 'Download' button. The download takes no more than 15 seconds. Then go ahead & install the app simply by moving the 'dmg' file into your Applications folder if you are on a Mac.
On Windows, go through the standard installation wizard.
Step 1. Plug your iPhone into your Windows/Mac machine
Take a standard USB cord and simply connect your iPhone.
Step 2. Copy the URL of the iPhone X ringtone
All you need to do is to go on YouTube and search for the 'Reflection' ringtone. Or simply copy the video's link below.
SYC 2 will recognize it immediately & add it to the downloading queue (see screenshot below).
Step 3. Select 'Ringtone' in the menu
This is as simple as it gets. Just choose your iPhone & click on the Download button. Your ringtone will be downloaded to the iPhone instantly.
Besides ringtones, SYC 2 easily downloads music, videos to any iPhone, iPad or even iPod.
Finally, find your new tune in the Settings > Sounds.
Then select "Reflection" and go surprise your friends with a new iPhone X you have just got.
But this is just the beginning of your pranking future.
There's also an alternative way to add ringtone to iPhone without iTunes. This is perfect in case you have an M4R ringtone already and need to put it on your iPhone.
Spoiler: No, there's no iTunes or Garageband involved.:)
How to Add Existing M4R ringtones to iPhone without iTunes
If you already downloaded an M4R ringtone on your desktop, you will need to use WALTR 2. It's a Mac & Windows app that seamlessly transfers any music, movies, and ringtones to your iPhone or any Apple device.
In case you don't have an M4R file, you can also convert your M4A song into an iPhone ringtone. Simply change its extension from M4A to M4R.
Step 1. Download WALTR 2 on your Mac/Windows
At first, go ahead and download WALTR 2. Just like in the previous scenario, you will need to plug your iPhone into your Mac or Windows machine using a standard USB cable. But it's getting even easier than that.
WALTR PRO
Free Download
Step 2. Connect your iPhone to your computer
WALTR will recognize your iPhone immediately. Just like in SYC 2, you can also connect your iPhone via Wi-Fi. Simply click on the tiny Settings gear in the bottom right corner of the app and make sure to have "Enable Wi-Fi Connectivity" checked.
Next time the software will see your iPhone immediately.
Step 3. Drop an M4R file into the app
All you need to do is simply to throw your ringtone into the app. In seconds your new cute iPhone X ringtone will show up in the Settings.app on your iPhone!
Additionally, WALTR 2 has a smart recognition technology built-in. It recognizes exactly what files you are transferring. In fact, all your movies will land in TV.app, you will find music in Music.app and ringtones will go to the Settings.app.
Finally, go to your Settings.app and set the new iPhone X ringtone up.
There you go! Once again, your new ringtone will land in the Sounds Settings above the pre-installed sounds
Quick rundown of WALTR 2 essential features:
All-format support. The application is compatible with absolutely any music and video formats: MKV, AVI, FLAC, WMA, MP4, MP4, APE and many more!

Play music on any Apple iPod! This software also works seamlessly with all Apple iPods, be it an iPod touch or even original iPod.

PDF & ePUb support. Besides music, ringtones and movies, WALTR seamlessly transfers ebooks on your iOS device.

Automatic Recognition Technology (aka ACR). WALTR 2 knows exactly what your are transferring! Therefore, it will add all the needed meta data and artworks to your music or movies.
Bottom Line
In conclusion, it's a piece of cake to download default iPhone X ringtone to iPhone of any generation. All you need is a cool MacOS & Windows apps – SYC 2 or WALTR 2.
Both apps work with any iPhone ever created, so you can easily set it up on your device. In addition, you can use any workaround to easily add any ringtone to iPhone without iTunes.
There's also no Jailbreak involved – which makes it so fast & convenient!